Staci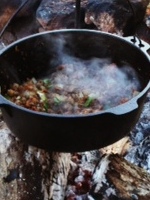 Joined: 14 May 2012
Posts: 257
Location: Georgia/Florida
Posted: Saturday 1-5-2013 3:46 am

Post subject: Pepper Butter

---

This is a quick and easy canning recipe.

This is like a honey mustard sauce - but soooo much better (I'm not crazy about honey mustard but love this stuff!).
It's great as a dip (we use pretzels and meat and cheese tray items - yum!), on a sandwich as you would use mustard, as a marinade, or as a roasting or bbq sauce.

Pepper Butter

Makes about 8 1/2 pints

36 peppers (hot banana or Hungarian Wax - you want to use the yellow-green ones)
1 quart yellow mustard
1 quart vinegar
6-8 cups sugar (I use 6)
1/2 cup flour or 1/3 cup ClearJel, not instant
1/2 cup cold water

Stir together the flour and water until smooth - set aside.

Clean the peppers - (wash, stem, seed).
Puree peppers in a food processor or in a blender until fairly smooth.
In a large pot combine the pureed peppers, mustard, vinegar, and sugar.
Over medium-high heat bring to a low boil, stirring constantly until sugar is melted and all ingredients are incorporated well (about 5 minutes).
Stir in flour and water while stirring to thicken. You can double the flour and water to make thicker if you like.
Still stirring constantly, simmer for about 5 more minutes.
Turn heat to low.
Ladle into hot jars, seal, and process in water bath for 10 minutes.