jjokub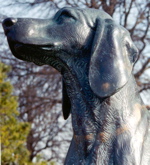 Joined: 06 Feb 2008
Posts: 9
Location: Warrensburg, Missouri
Posted: Sunday 2-10-2008 1:14 pm

Post subject: Hot Artichoke Dip

---

For years this recipe was on the back of Hellman's Mayonaise jars.

2 cans (14 oz) Artichoke hearts, well drained and chopped
2 cups real Mayonaise (no substitutions)
2 cups grated parmesan cheese (from the green plastic jar)
Stir ingredients together and place in a 12" dutch oven, cover with lid.
8 coals under the oven, 17 on top of lid. Rotate a couple of times and check at 30 minutes until heated thru. You might want to place a few more coals on the lid toward the end of the cooking time to get it nicely browned.

The variations on this recipe are endless--you may add,
Frozen chopped spinach, thawed and well drained
Frehs broccoli, chopped
Fresh asparagus
Roasted red peppers
----outline the outside edge of the dip with roasted red peppers, make a small circle of peppers in the center, use fresh asparagus as spokes(before baking) and you've got yourself "Wagon Wheel Dip")
Walnuts and feta cheese
Sun dried tomatoes
And on and on and . . .