jakeway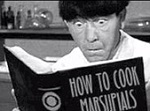 Joined: 28 Jan 2015
Posts: 131
Location: Near Nashville, TN
Posted: Tuesday 7-25-2017 3:31 am

Post subject: My newest oldest DO

---

Last week I was in the middle of a nine hour drive and was getting drowsy. Up ahead a saw an antique mall, so I thought I'd stretch my legs a little. I found several pieces of CI, and purchased a Favorite Piqua Ware flat-topped Dutch Oven for a very good price. I don't know the exact year it was made, but the company went out of business in 1935.

It's very smooth and should be a good cooker. I'd post pics, but I still haven't found a site to host my pics. (I'm not going to pay Photobucket $99 per year!)
_________________
It's not Rocket Surgery, for cooking outside!