Buckeye Blues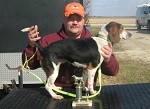 Joined: 27 Aug 2015
Posts: 84
Location: Ohio
Posted: Friday 10-23-2015 9:03 am

Post subject:

---

Looks pretty dang good to me.

I pretty much use all the same ingredients only I put the onions, shrooms, and peppers between the 2 patties prior to cooking, thus making it a stuffed burger. The the giant raw patty is wrapped completely in bacon and grilled indirectly on the fire.
_________________
Campin', cookin' in the black pots, & runnin' the hounds.
It don't get no better!