jakeway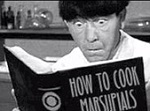 Joined: 28 Jan 2015
Posts: 131
Location: Near Nashville, TN
Posted: Sunday 6-7-2015 4:03 pm

Post subject: Venison Chili Verde

---

Today it was too hot to cook outside; I didn't even want to get in the car and drive to the store for ingredients. I wanted to try Fogcrawler's "Burritos Ranchero Chile Verde" (Outdoorcastironcook) but I didn't have all the stuff.

So I thawed some Venison and raided the cupboard. I found a small bottle of Verde Salsa and thought, "What the heck!"

Next time I'll try the official recipe, but for now, this is a SUPER EASY way to make a quick meal.

https://www.youtube.com/watch?v=8JTWwTTwWXU&feature=youtu.be
_________________
It's not Rocket Surgery, for cooking outside!