Dutch Oven Cook



Joined: 09 Apr 2009
Posts: 506
Location: Jacksonville, Florida, USA
Posted: Thursday 10-24-2013 5:36 am

Post subject: Country Fried Smothered Steak

---

[img]

Here's one of my favorites. Easily adaptable for kitchen stove-top or campfire cooking:

• Country Fried Smothered Steak
• 2 large eggs
• 2 cups whole milk, room temperature 3 cups all-purpose flour
• 1/2 teaspoon salt
• 1/2 teaspoon freshly ground black pepper
• 1/2 teaspoon hot paprika
• 1/2 teaspoon garlic powder
• 2 cups canola oil, for frying
• 8 6-ounce tenderized top round beef cutlets, room temperature

• Skillet Gravy
• Oil left from the skillet
• 2 to 3 tablespoons all-purpose flour
• 2 cups whole milk., room temperature
• 1 teaspoon Tabasco sauce, or to taste
• 2 teaspoons freshly ground black pepper
• Salt

Procedures
1
To prepare the steak, tenderize by pounding meat with the edge of a heavy plate or chef's hammer, whisk the eggs and milk together in a bowl and set aside. Combine the flour, salt, pepper, paprika, and garlic powder in another bowl and set aside.

2
Heat the oil in a cast-iron skillet or Dutch oven over medium-high heat until an instant read thermometer registers 350° F. Dip a cutlet into the egg wash, then in the seasoned flour. Return to the egg wash for a quick dip, then immediately to heated oil in the skillet. (Be careful, the oil will pop, spit, and hiss.) Repeat without crowding the skillet. Cook until brown, 3 to 5 minutes. Using an offset spatula, turn and cook an additional 3 minutes. Remove the steak pieces to a warm plate. Reserve leftover oil from the skillet for the gravy. Thicken the oil with flour and stir while browning. Add milk, stirring til smooth, to make gravy. Return the steak pieces into the gravy and simmer until tender. Add milk, water or stock to thin the gravy if necessary. Serve hot with mashed potatoes or rice, and cornbread or biscuits.

DOC



[/img]
_________________
Buy American, the job you save may be your own!
Cooking Outdoors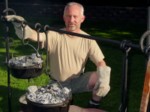 Joined: 07 Jun 2008
Posts: 140
Location: Oakdale, Ca
Posted: Thursday 10-24-2013 3:49 pm

Post subject:

---

Great recipe Doc! Delishious!
_________________
Gary House

http://www.Cooking-Outdoors.com

"Get out of the Kitchen, Light the Fire, Start Cooking Outdoors"

Founding member of "Central California Dutch oven Adventures"